Blog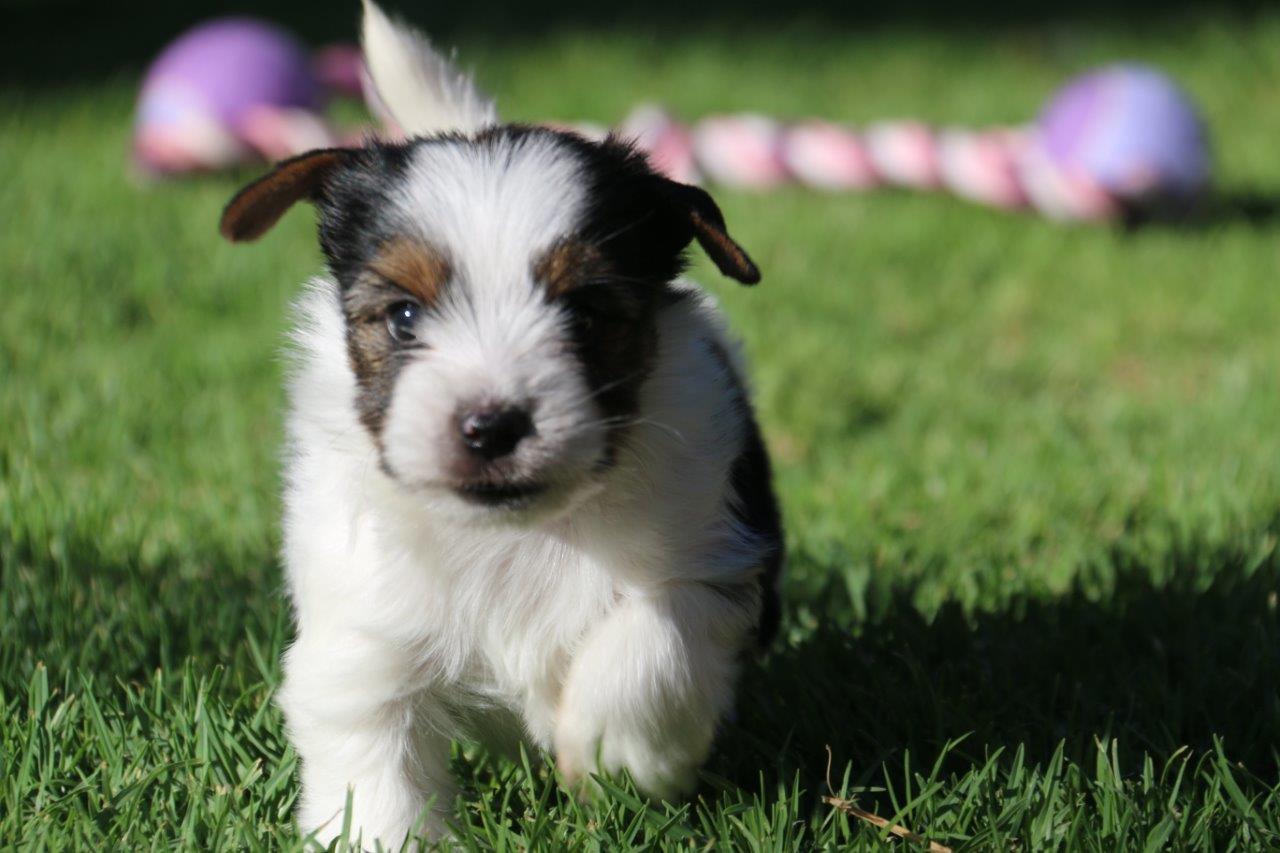 Biewer Terrier Puppies, December 2016
- 2016-12-17
Here are some photos of the gorgeous Biewer Terrier puppies we had in December 2016.  What a beautiful litter, we are so proud!          ...
more
Biewer Terrier Breed Standard - www.btcsa.co.za
- 2016-12-01
THE BIEWER TERRIER CLUB OF SOUTHERN AFRICA - www.btcsa.co.za GENERAL APPEARANCE That of an elegant longhaired toy terrier with the hair parting down the middle and hanging straight and evenly on both sides of the dog.  Although the outline of the dog gives the appearance of a square, the body length can be slightly longer than the o...
more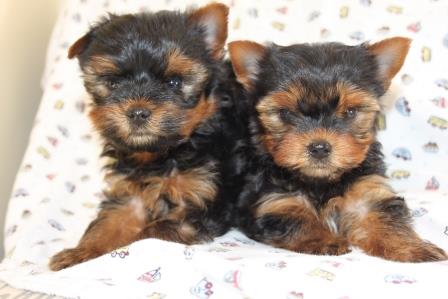 Fast, fun and interesting facts about Yorkshire Terriers
- 2015-11-22
A male Yorkshire Terrier is more likely to bond with a female member of the household, and a female Yorkie is more likely to bond with a male family member. I have personally experienced this in my own house with our Yorkies and I have also seen it with within some of my family and friends.  Yorkies have no undercoat and therefore don'...
more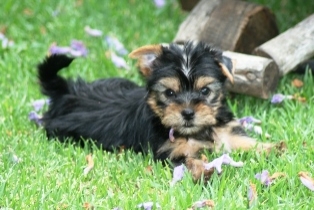 A few more fast facts about Yorkshire Terriers
- 2015-11-22
If you like small dogs with big dog attitudes, you may want to consider a Yorkshire Terrier. Yorkies are so sure that they are just as big and bad as the other guy that they will not hesitate to take on a Great Dane. Of course, this doesn't mean that Yorkshire Terriers aren't lap dogs. The Yorkie can cuddle with the best of them. &n...
more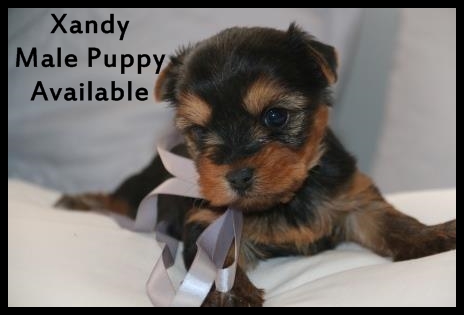 Yorkie Reuntjie of Tefie - die GROOT vraag!
- 2015-11-22
REUNTJIES VS TEFIES - die groot vraag! Meeste van my kopers soek Yorkie tefies as gevolg van die wanindruk dat tefies 'n beter temperament het, makliker opleibaar is en nie hulle area merk nie. Dit is nie waar nie en onregverdig teenoor die ou seuntjie Yorkies.  Daar is eintlik groot voordele vir beide reuntjies en tefie Yorkshire Terri...
more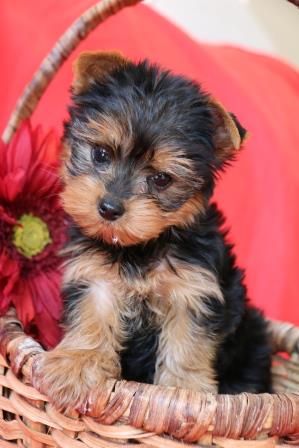 Aziza Yorkie Puppies born January - June 2015
- 2015-06-19
Photos of some of our gorgeous Yorkshire Terrier puppies bred in 2015                                                                             ...
more
TEA CUP YORKIES, YORKSHIRE TERRIERS
- 2015-04-17
TEA CUP YORKIES, YORKSHIRE TERRIERS Everyone seems to want to own a Yorkshire Terrier that tips the scale at under 1.5kg when fully grown.  This leads to serious concerns about the health and future of the Yorkshire Terrier breed. Many prospective Yorkie owners believe that there are several "types or breeds" of Yorkshire Ter...
more
The big question - MALE VS FEMALE?
- 2015-03-24
The big question - MALE VS FEMALE? Fact or fiction: Female yorkies are sweeter and more affectionate than male Yorkies? I have found that male Yorkies are actually more affectionate, exuberant and attentive compared to females. Male Yorkies tend to seek your attention and are very attached to their owners. Most female Yorkies will come to you...
more
Kies SO 'n gesonde Yorkshire Terrier baba hondjie...
- 2015-03-24
'n Gesonde Yorkie baba hondjie het blink, sagte hare, donker neus, lippe, ooglede en helder blink ogies.  Let op na enige afskeiding uit die Yorkie puppy se neus, ore en oë ('n bietjie tranerigheid is natuurlik).  Gesonde Yorkshire Terrier puppies is spelerig, wakker, vol vertroue en gekoördineerd - maak seker dat die ...
more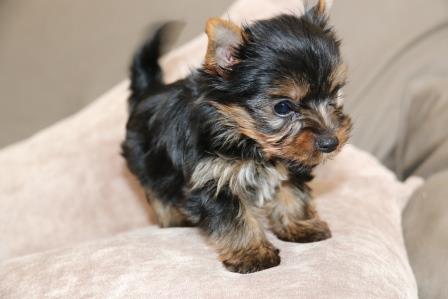 Yorkie puppies - December 2014 to March 2015
- 2015-03-24
Recent photos of our Yorkshire Terrier puppies December to March 2015 Onlangse fotos van ons Yorkie baba hondjies tussen Desember en Maart 2015                 ...
more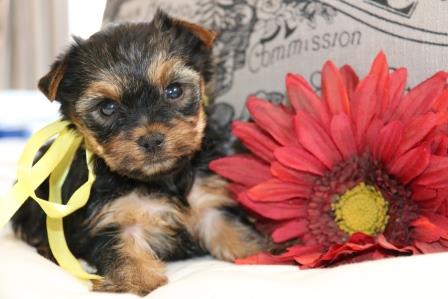 Our Yorkie Puppies - October 2014
- 2014-10-09
Herewith photos of our Yorkshire Terrier puppies - October 2014 Fotos van on Yorkie baba hondjies - Oktober 2014                       ...
more
Yorkies at Play / Yorkshire Terrier Speeltyd
- 2014-09-23
Yorkies at play!  One of the most enjoyable and fun aspects of having a Yorkie, Yorkshire Terrier is the endless energy, playfulness and curiosity that they bring to your family. It is very important to make time to play with your Yorkshire Terrier puppy as it assists in helping your Yorkie Terrier puppy to become a well-adjusted, well-beh...
more
Algemene Versorg - Yorkshire Terriers
- 2014-09-23
  Yorkies – Algemene versorg Die lang, reguit, sysagte Yorkie hare moet gereeld geborsel en goed versorg word ten einde te verseker dat die hare nie koek nie.  Hulle velle is sensitief so borsel saggies en moenie aan hulle hare trek nie.  Indien hulle gereeld geborsel word (2 x keer per week) is Yorkies nie so tydrowend a...
more
Parvo Virus (katgriep / catflu) and your Yorkshire Terrier puppy
- 2014-09-23
Parvo virus is a highly infectious virus - also called cat flu but DOES NOT originate from cats. Parvo virus cannot affect humans. Pups often stop eating, vomit and have diarrhoea. The diarrhoea may be bloody. Parvo virus can be found in soil, in cracks, on clothing and blankets can be transmitted by humans who have being in contact with sick ...
more
Jou Yorkie, Yorkshire Terrier se inentings
- 2014-09-23
Jou Yorkshire Terrier hondjie moet sekere inentings by jou veearts kry om hom/haar te beskerm teen aansteeklike siektes. Jou Yorkie baba hondjie sal sy/haar eerste inspuiting by ons kry en daarna is dit jou verantwoordelikheid om die inenting skedule, soos voorgestel deur jou veearts streng te volg. Die inenting wat oor die algemeen gegee word...
more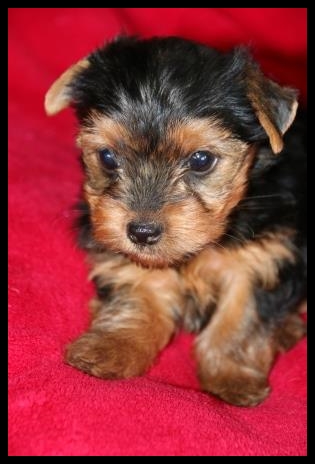 Yorkie puppies 2014 / Yorkshire Terrier babas 2014
- 2014-06-16
Hier is n paar fotos van ons pragtige Yorkie baba hondjies - 2014 A few photos of our gorgeous Yorkie puppies - 2014                 ...
more
TEACUP YORKIES
- 2013-11-08
TEACUP YORKIES Die algemene begeerte van baie mense is om 'n Yorkshire Terrier te besit wat die skaal onder 1.5kg trek op volgroeide ouderdom - dit lei tot ernstige kommer oor die gesondheid van die Yorkshire Terrier ras. Baie voornemende Yorkie eienaars is onder n wanindruk dat daar verskeie "tipes of rasse" Yorkshire Terriers ...
more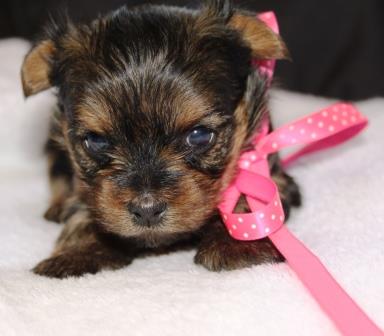 Our Yorkshire Terrier puppies: May to September 2013
- 2013-08-31
We have been blessed with absolutely gorgeous Yorkshire Terrier, Yorkie puppies over the last few months. Herewith some photos of the Yorkie puppies.  These Yorkshire Terrier puppies have all been sold, but we are expecting more litters, so feel free to contact us for more information.       ...
more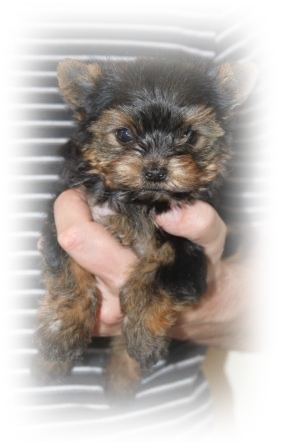 Our Yorkie puppies - March / April 2013
- 2013-05-09
Photos of our recent Yorkie puppies - arent they just too gorgeous? Fotos van onlangse Yorkie baba hondjies - is hulle nie te pragtig nie? ***These puppies are all sold - please contact us for available puppies***   ...
more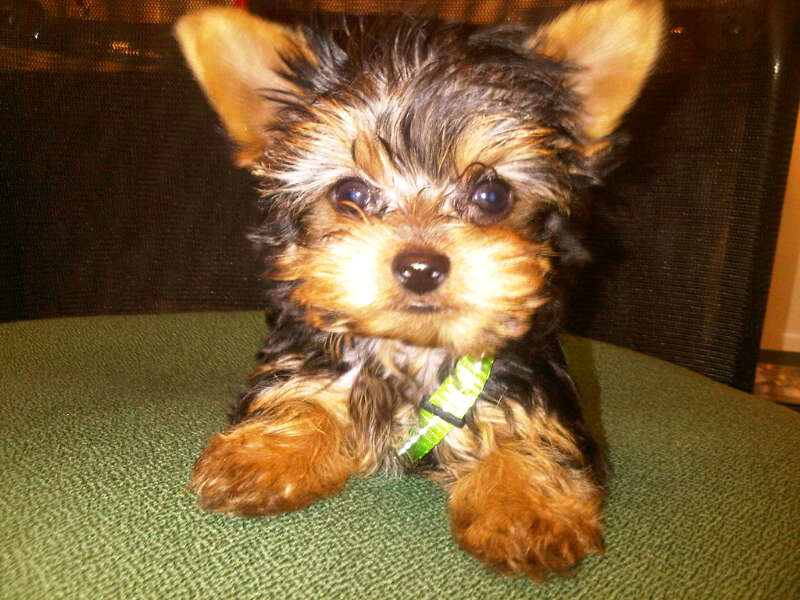 A little Yorkie called Apple ... born 16 December 2012
- 2013-02-26
Little Apple ... what a gorgeous little Yorkie puppy.  Apple stayed with us till the age of 10 weeks because she was leaving on a jetplane all the way from Lanseria Airport in Johannesburg to Cape Town.  Little Apple departed Lanseria Airport at 09h35 and arrived safely in her new mom Annette's arms at 12h00&n...
more
Yorkshire Terrier - Temperament, Oefening en Gesondheid
- 2013-02-26
Yorkies is "terriers" en kan aggressief wees - Yorkies kan geleer word om saam met ander diere te leef maar behoorlike sosialisering van baba-hondjie stadium is nodig. Yorkshire Terriers is intelligent, slim en kan dus opgelei word so lank as wat die opleiding konsekwent en op n gereelde basis is. Soos met al die klein-ras hondjies kan po...
more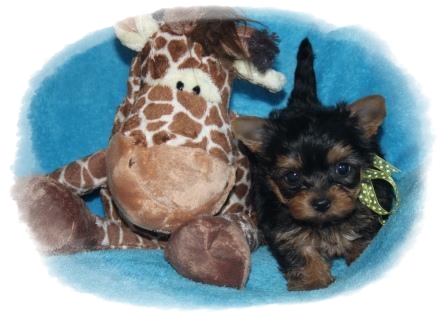 YORKIE PUPPIES - DECEMBER 2012
- 2013-01-27
We were blessed with two gorgeous litters of Yorkshire Terrier puppies born on the 16th and 17th of December 2012. Herewith a few photos of the Yorkie puppies.                ...
more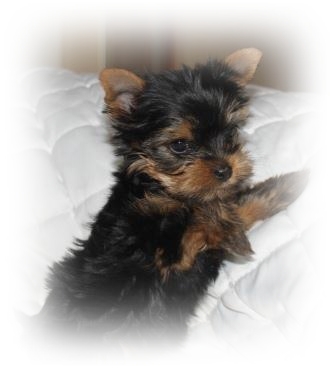 Lila's gorgeous Yorkie female puppies - born 19 September 2012
- 2012-11-23
Lila het darem maar pragtige Yorkie babas gehad.  Dit was haar eerste Yorkie werpseltjie.  Sulke ou klein, fyn Yorkie tefies met die ou pragtigste gesiggies.  Ons sien uit na Lila se volgende Yorkie baba hondjies oor 'n hele paar maande van nou af (hopenlik).   Lila had such beautiful Yo...
more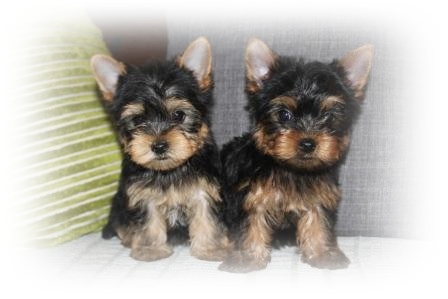 Kiki x Josh's puppies - born 17 Sep 2012
- 2012-11-10
I cant believe that Kiki's gorgeous little Yorkshire Terrier puppies are 8 weeks old already. She had 1 Yorkie female puppy and 2 Yorkshire Terrier male puppies.  Unfortunately the one boy went to his new forever home before I could get the camera out, but herewith a photo of the other two Yorkie puppies - a boy and a girl. &nb...
more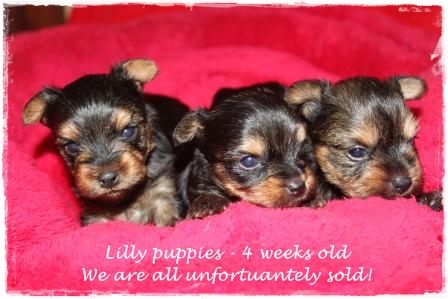 Lilly x Josh Yorkshire Terrier puppies born on 24 August 2012
- 2012-09-21
Lilly blessed us with 3 gorgeous little Yorkshire Terrier puppies on the 24th of August 2012. These Yorkie puppies are 4 weeks old today and are starting play, bark and eat solids!  Such beautiful little puppies - I wish I could keep them all.  Lilly's Yorkshire Terrier puppies have all been sold and will go ...
more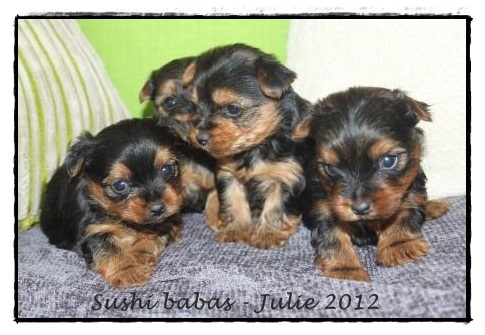 Sushi puppies - July 2012
- 2012-08-02
Sushi (x Levi) had 4 gorgeous Yorkie puppies born on the 4th of July 2012. All 4 Yorkshire Terrier puppies have been sold and will be going to their new homes at the end of August 2012. Keep an eye on our website for updates on our expected future Yorkie litters.   ...
more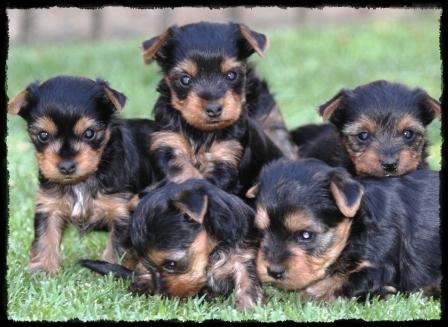 Yorkshire Terrier puppies - April and May 2012
- 2012-07-01
Three of our Yorkshire Terrier moms had puppies in April and May 2012.  Brangie (x Josh) gave birth to 3 Yorkie females and 3 Yorkie male puppies on the 2nd of April 2012. Alaina, Alexis, Flower, Albie, Lex and Benji - you were a busy bunch of Yorkie puppies, the house is very quiet with you all now gone and with your new...
more
Our current Yorkshire Terrier puppies available and for sale - April 2012
- 2012-04-18
Bienkie, one of our most beautiful Yorkie females, gave birth to 2 gorgeous Yorkie female puppies on the 8th of April 2012.  Both puppies are doing exceptionally well.  One of these little puppies have already been booked by Esme, the other Yorkshire Terrier female puppy is available and for sale. An update on Brangie's Yorkie puppi...
more
Brangie's Yorkie puppies were born on 02 April 2012
- 2012-04-06
What a gorgeous bundle of little Yorkshire Terrier puppies!  Brangie, the very proud mom, gave birth to 3 Yorkie male puppies and 3 Yorkie female puppies.  They are small Yorkie puppies....
more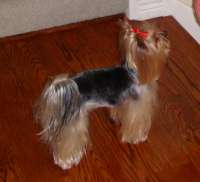 Have fun with different Yorkie hairstyles!
- 2012-03-25
Although the Yorkshire Terrier have long coats, there is no set hairstyle / haircut.  In fact, because they have long hair and it grows quite quickly, you can have fun and style your Yorkie differently every now and again.  To cut the Yorkie hair short is convenient, saves you on grooming time and if done correctly they look adorable, gor...
more
Yorkies in general
- 2012-03-25
The Yorkie is alert, inquisitive, curious, energetic and full of beans, spirited, determined, fearless and so very sweet, loveable and cute. Yorkies are best described as a little dog with a big personality – fondly referred to as pocket rockets! The Yorkshire Terrier is the most popular breed in South Africa. They crave close physical contact, a...
more
Watse kos moet ek my Yorkshire Terrier voer?
- 2012-03-24
Ons voer ons Yorkies Royal Canin Yorkshire Terrier. Hoekom? Hier is die rede waarom (inligting vanaf www.royalcanin.co.za): Royal Canin Yorkshire Terrier 29 Junior *Tailor-made food for Yorkshire puppies from 2 to 10 months. *Helps cover the requirements of a short and intense growth period thanks to its' high fat content and optimal provi...
more
Do Our Pets Really Love Us?
- 2012-02-12
Do Our Pets Really Love Us? By: Dr. Nicholas Dodman In the English language, we have just one word to describe the different types of love. The ancient Greeks were a bit smarter in this respect; they used different words to describe the love for a spouse, a sibling, a parent or a friend. You have to wonder which word they used to describe the...
more
Yorkshire Terriers en blafferigheid
- 2012-02-12
Solank Yorkies genoeg liefde en aandag kry en nie vir lang periodes alleen by die huis gelaat word nie is Yorkies gewoonlik nie baie lawaaierig nie. Indien hulle vir lang tydperke alleen gelos word kan hulle begin om 'n gewoonte te maak van blaf en kou. Yorkies wat aanhoudend blaf is gewoonlik ge-stres, eensaam, ooropgewonde of verkeerd opgelei.&nb...
more
Yorkies - ideaal vir mense met allergiee?
- 2011-11-27
Yorkies verloor nie rerig hare nie. Hulle hare vat bietjie moeite om te onderhou maar is meesal ideaal vir mense wat allergies is. Soos enige persoon of dier verloor Yorkies wel 'n klein hoeveelheid hare maar omtrent niks. Om hierdie rede word Yorkshire Terriers beskou as n goeie keuse vir allergie-l...
more
Sushi X Levi first litter
- 2011-10-16
Our dearest Yorkshire Terrier female Sushi gave birth to a gorgeous litter of 3 Yorkie puppies on Sunday 09 October 2011.  It was her first litter and she is a real star and a very good mom!  Two handsome Yorkshire Terrier Male puppies and 1 pretty Yorkie female puppy are doing well and already 1 week ol...
more
Bienkie X Levi Yorkshire Terrier Puppies born 12 June 2011
- 2011-08-13
I can hardly believe it.  Bienkie and Levi's Yorkie, Yorkshire Terrier puppies that were born on the 12th of June 2011 are now all 9 weeks old and have each found his/her own special forever home.  How time flies!  I now suffer from empty nest-sydrome, miss the Yorkshire Terrier puppies terribly.  I am&n...
more
Wees versigitg waar jy jou Yorkie koop!
- 2011-07-28
  Ek het weer 'n hart verskeurende epos van 'n baie bekommerde nuwe Yorkie eienaar gekry: 27 July 2011   "Moontlik het jy vir my raad, ek het my Yorkie by mense gekoop, wat blykbaar Kusa geregistreerd is. Van die begin af het ek by die veearts geboer met diaree ens. Na twee weke toe kom die veearts agter sy het lintwurms...
more
Choose where you buy your Yorkie puppy carefully!
- 2011-07-12
I was absolutely HORRIFIED when I received the following email from a lovely lady who enquired with me for a Teacup Female Yorkshire Terrier.  She wanted a Teacup Yorkie and bought a Yorkie from someone who let the little Yorkie puppy go at the age of 5 & ½ weeks old, not inoculated, not dewormed and probably unregistered. ...
more
Die Yorkie puppies is 4 weke oud vandag!
- 2011-07-10
Bienkie en Levi se half dosyn Yorkshire Terrier baba hondjies is vandag 4 weke oud.  Hulle is te pragtig en vorder baie goed.  Die Yorkie puppies het vanoggend hulle eerste ontmoeting met "solids" gehad ... heerlike sagte Royal Canin Yorkie Junior blokkies.  Male (white ribbon) - estimated adult weight = 1.8kg...
more
The New Yorkie Puppies are 3 weeks old!
- 2011-07-03
Bienkie and Levi's little Yorkshire Terrier puppies are 3 weeks old today!  They are just beautiful and doing incredibly well.  Herewith some pictures taken on their 3 week birthday - pics taken today!...
more
New Arrivals - born on the 13th of June 2011
- 2011-06-30
Bienkie gave birth to 6 beautiful Yorkshire Terrier puppies on the 13th of June.  It is her first litter and she is an amazing mom.  We are so lucky - she gave us 5 gorgeous Yorkie boys and 1 pretty little Yorkie girl.  They are already almost 3 weeks old, eyes are open and they are getting more and more mobile everyda...
more