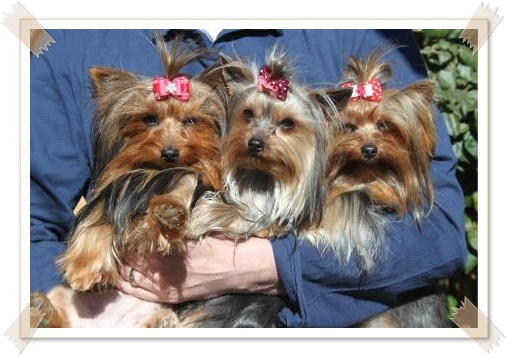 Aziza Yorkshire Terriers is 'n gevestigde, klein Yorkshire Terrier, Yorkie telery in Roodepoort, Johannesburg, Gauteng, Suid Afrika. Ons teel gesonde, gelukkige, goed gesosialiseerde en kwaliteit Yorkie hondjies. Aziza Yorkshire Terriers is 'n geregistreer as 'n Yorkie teler by die Kennel Unie van Suider Afrika (KUSA).
Al ons Yorkies word noukeurig versorg en word in 'n liefdevolle huis en omgewing groot. Ons hou glad nie ons Yorkshire Terriers in hokke of kennels nie - hulle is almal troeteldiere in ons huis en is gewoond aan net die beste behandeling en baie liefde.
Ons het af en toe Yorkshire Terrier baba hondjies te koop aan goeie en geskikte huise.
Aziza beteken "kosbaar" in Swahili...

Die Yorkshire Terrier, (bekend as die Yorkie) is 'n klein honde ras wat geklassifiseer word in die Toy-groep deur die Kennel Unie van Suider Afrika. Die kostelike lang-haar terrier is bekend vir sy speelse, lewendige en gelykmatige temperament. Aansienlik anders van hoe Yorkies honderde jare gelede gelyk het, het vandag se Yorkshire Terrier kleiner en kleiner geword. Die Yorkshire Terrier is ongetwyfeld een van die mees gewildste van alle klein-ras hondjies - die Yorkie se gewildheid in Suid-Afrika (en regoor die wreld) het geweldig toegeneem oor die afgelope paar jaar.
Yorkies is sjarmant, intelligent, vrolik, vol moed en lewe, baie lojaal en vreeslik liefdevol - hulle is ware "Terriers".
Yorkies is lief daarvoor om in jou tuin en huis rond te hardloop en te speel - hulle is gedurig besig om goed uit te snuffel en probeer ook vols en vlinders jaag. Yorkshire Terriers floreer op menslike kontak, liefde en aandag. Yorkies is mal daaroor om op jou skoot op te krul, op die rusbank te le en snoesig saam met jou op jou bed te slaap.
Yorkies is kompak en nogal atleties gebou en dus redelik aktief gedurende hulle hele lewe.
Yorkshire Terriers het n trotse, regop houding, vol selfvertroue maar asgevolg van hulle klein grootte kan hulle maklik seerkry (of erger) indien daar perongeluk op hulle gesit of getrap word of hulle van iets hoogs afspring.
Omdat Yorkies klein is, is hulle is ideaal om oral saam met jou gaan en hulle geniet dit! Yorkshire Terriers kan aanbeveel word vir iemand wat nie baie spasie het - hulle is gelukkig in n klein huis of woonstel. As gevolg van die Yorkshire "terrier" tipe temperament is Yorkies lief om deur jou huis (om die eetkamer tafel) en tuin te hardloop en speel. Baie speelgoed en afleiding sal die lewendige Yorkshire Terrier besig hou en vir ure se vermaak sorg vir jou en die hond!
Yorkshire Terriers raak vinnig geheg aan hulle eienaars (sterker bande vorm met volwasse mense en ouer kinders) en hulle geniet dit om deel van die familie wees. Klein kinders is geneig om Yorkies senuweeagtig te maak, omdat hulle hul gedurig wil optel en ronddra - Yorkies vind dit stresvol want die hantering is meesal bietjie rof en nie so sag nie.
Yorkshire Terriers word speels na verwys as "Pocket Rockets" of "The Little Big Dog" omdat hulle glo hulle is baie groter en sterker as wat hulle werklik is. Yorkshire Terriers is ongelooflik dapper en waaksaam, baie beskermend teenoor hulle gebied en as gevolg van hul uitstekende gehoor waarsku hulle hul eienaars teen die geringste teken van probleme die perfekte klein waghondjie!
Yorkshire Terriers verloor nie hare nie (slegs as hulle geborsel word) en is dus een van die beste troeteldier rasse vir mense wat aan allergie en sinus problem ly.
Yorkies kan tot 15 jaar oud word, het voordurende liefde en aandag nodig reg deur hul lewe, is oor die algemeen baie gesond, maar is wel vatbaar vir sekere siektes en toestande.